MINI Certified Pre-Owned Benefits: Extended Warranties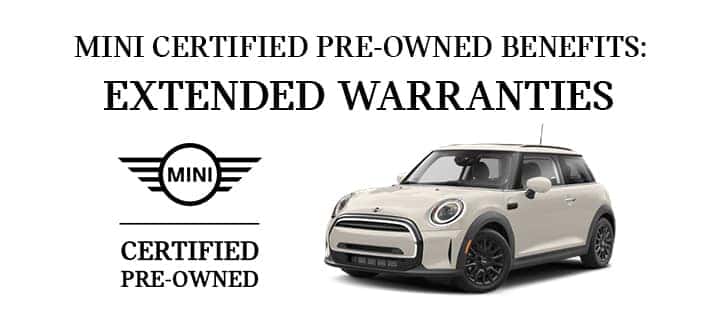 Certified Pre-Owned vehicles have seen a huge gain in popularity in recent years. When the pandemic created supply issues in the automotive industry, people discovered that Certified Pre-Owned vehicles were an excellent alternative to buying new vehicles.
We recently told you about 10 Reasons to Buy a Certified Pre-Owned MINI. Let's zoom in and break down one of the best benefits of buying a MINI Certified Pre-Owned vehicle – the extended warranty.
When you buy a used car that isn't certified, you get the remainder of the original warranty, if any still exists. If that warranty has expired, you're left without coverage unless you purchase a new extended warranty.
Every MINI Certified Pre-Owned vehicle is backed by the MINI Certified Pre-Owned (CPO) Limited Warranty. The warranty provides specific coverage against defects in materials and workmanship. You're covered for 1 year/unlimited miles after the expiration of the 4-year/50,000-mile MINI New Passenger Car Limited Warranty, for a total of 5 years/unlimited miles. This includes up to five years of 24/7 Roadside Assistance.
With the confidence of a comprehensive MINI Certified Pre-Owned Protection Plan, and all the distinctive design and legendary fun of a new MINI, the road is yours for the taking. This is one of the main reasons MINI certified pre-owned vehicles have become a consumer favorite. Extended warranties ensure peace of mind, especially knowing that any repairs needed will be completed by MINI-certified technicians with only original MINI parts.
The extended warranty is just one of the benefits of purchasing a certified pre-owned car. Every MINI Certified Pre-Owned vehicle must be five years young (or younger) with less than 60,000 miles driven. the MINI CPO warranty also includes 24/7 Roadside Assistance. MINI also offers the options of purchasing other extended warranties and maintenance plans to fit whatever your needs or wants may be.

If you have any questions, feel free to call us at 847-230-8210 or send us a quick note via the Patrick MINI contact us page.