10 Reasons to Buy a Certified Pre-Owned MINI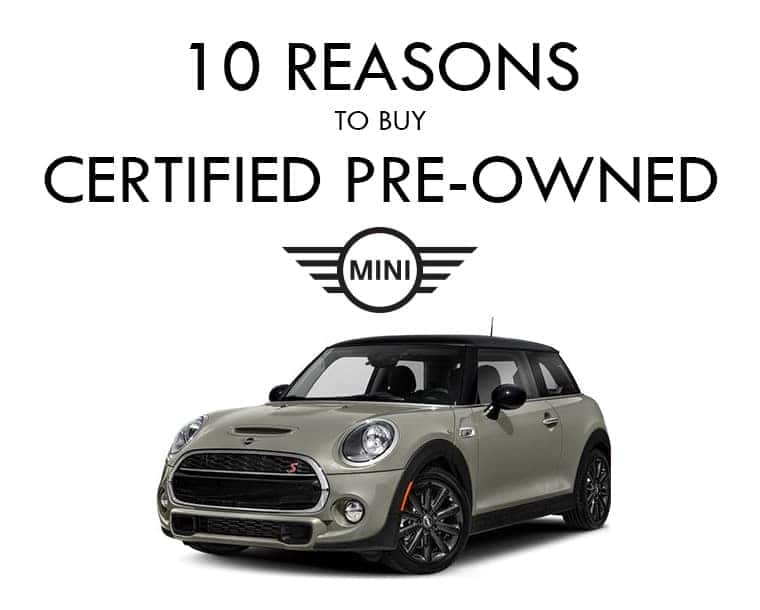 The time has never been better to buy a certified pre-owned MINI. Inflation has risen to the extent that consumers feel pain in almost every purchase. The pandemic created a massive backlog for computer chips, reducing the number of new cars available. We have the perfect solution for these problems. Read on and find out 10 reasons you should buy a certified pre-owned MINI.
Drive It Home Today
If you've done any car shopping recently you've noticed the lack of new cars available for purchase. The pandemic contributed to supply chain shortages, including computer chips needed for new cars. It's not always the case, but part of our current reality is there might be a waiting period if you buy a new car. Certified pre-owned cars (CPO) are all present on the lot, so you know for a fact that if you like the car and want to buy it, you'll leave the dealership in your new ride the same day.
More Car for Less Money
One of the great things about buying a certified pre-owned MINI is that you will get "more car" than buying new. Those options you might have skipped when buying new are now affordable with a CPO. You will pay much less for a CPO than you would for a new car and you'll likely have more of the luxury and options you want.
Depreciation Has Decreased
Everyone is familiar with the old adage about how much a new car depreciates the moment you drive it off the dealership lot. The great thing about CPOs is that someone else has already taken that huge depreciation hit, and you are the beneficiary! When you buy a certified pre-owned MINI, you're getting a late model, almost new car at a big discount.
Rigorously Inspected Before Certification
Each MINI is put through an array of rigorous inspections before it's given the certified label. Here is the rundown:
Tire, Wheel, Brake Inspection: 50-point wheel assembly inspection to check all tires, wheels, and brakes.
Body, Fit, and Finish Inspection: A 54-point body condition, fit and finish inspection that checks every inch of the MINI to see if it meets MINI guidelines and standards. Bumpers, hood, doors, roof, and all other exterior features as well as the glass area, interior, trunk, keys, and more are thoroughly inspected.
Mechanical Inspection: A 46-point mechanical inspection checks all of the mechanics of the MINI to see if it meets MINI guidelines and standards. This includes how everything is assembled from headlights to airbags to trunk lock.
Stationary and Rolling Road Test:  During the 80-point stationary and rolling road test the MINI is tested for at least 20 uninterrupted minutes for at least five continuous miles. During these tests, they look closely at the driver's seat functions, mirror functions, navigation system, windshield, pedal function, vehicle handling, and much more.
Even after all these tests and inspections are done, MINI still requires the Service Manager, a certified MINI Technician, and the MINI CPO Manager to sign off on the car before it's available for sale. During this process, repairs and reconditioning are done to make the car as close to new as possible.
---

---
Original MINI Parts
If the car needs any repairs, they will be made with all original MINI parts. Even if the car has been upgraded, the high-level MINI standard will be maintained.
Comprehensive Warranty
Every MINI Certified Pre-Owned vehicle is backed by the MINI Certified Pre-Owned (CPO) Limited Warranty. The warranty provides specific coverage against defects in materials and workmanship. You're covered for 1 year/unlimited miles after the expiration of the 4-year/50,000-mile MINI New Passenger Car Limited Warranty, for a total of 5 years/unlimited miles.
Full Vehicle History
MINI provides a complete vehicle history for each CPO. CARFAX® or AutoCheck® Report details information like if a MINI was in an accident, how many owners the car has had, and other historical information. You will have full access to these reports when looking to purchase your CPO MINI.
Sweet Perks
CPOs come with some sweet perks. Each MINI certified pre-owned car comes with 24/7 Roadside Assistance. You'll also receive three free months of Sirius XM radio.
Special Financing
Rates and deals do change, but MINI currently offers outstanding rates on financing your CPO. At the time of this writing, MINI is offering 1.99% APR for 36 months on for all 2018-2020 certified pre-owned MINI models, and up to 2.99% APR for 60 months.
Peace of Mind
You can't beat the peace of mind that comes with buying a MINI CPO. Your MINI CPO will have gone through several different inspections, it will have an extended warranty, and 24/7 roadside assistance. No worries, just all the fun of cruising around in your MINI!
Click here to view all the Patrick Mini Certified Pre-Owned Cars!