Top MINI Safety Features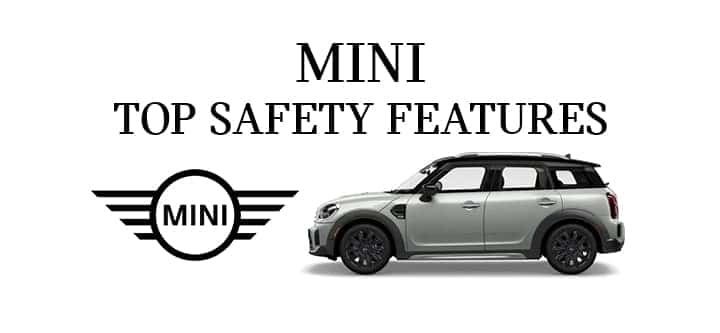 We all know how fun and unique MINIs are. Consumer Reports put it this way: "Agile and fun to drive, looks and feels like nothing else, comfortable front seats and roomy rear seat." Consumer Reports ranked the MINI Cooper Countryman #1 for luxury entry-level SUVs.
But did you also know MINI Coopers are extremely safe vehicles? Vehicle History reports: "As an IIHS Top Safety Pick+ winner, 2016 and newer Mini Coopers have proven themselves safe to drive. Their active and passive safety equipment helps make them even more safe by helping prevent accidents."
Vehicle History also points out that J.D. Power recently deemed them the most dependable out of all the compact cars on the market.
Let's take a look at some of the active and passive safety equipment that comprise the MINI top safety features.
Top MINI Safety Features
Smart Airbags
Up to 8 front, side-impact, ceiling-mounted, side-curtain, and knee airbags monitor collision severity to adjust inflation rates and help protect you and your passengers with as much force as needed. In extreme cases, they'll stay inflated longer to keep you safe from shattered glass.
Ultra Rigid Body
One of the top MINI safety features starts with the body of the car. An extremely strong frame reduces body torque and lets the suspension do what it does best – provide super-tight handling. A flex-free frame also reduces squeaks, rattles, vibrations, and cabin noise.
Crash Sensor System
MINIUSA.com describes the sensor system: "In the event of an accident, your MINI is quick to play superhero – automatically unlocking the doors, turning on interior and hazard lights, and cutting the fuel pump if the airbags have been deployed."
Breakaway Engine
If you get into a head-on collision, the engine and gearbox are designed to absorb the impact and break away from their mounts, diverting them from the cockpit in a final act of selfless bravery.
Rollover Protection Bar
If your safety systems detect a rollover, the frame-mounted safety bar automatically deploys within milliseconds to help keep the car's occupants protected.
Active Brakes
Brakes that will automatically ready themselves for an emergency stop when your foot suddenly leaves the gas, dry themselves in wet weather when your wipers are on, and actively work to reduce erratic driving.
Dynamic Stability Control
The Dynamic Stability Control system uses sensors to measure the steering angle, yaw and lateral acceleration to determine the direction you want to go. Then, if your MINI starts to stray, the DSC system kicks in by applying corrective brake pressure to individual wheels and adjusting engine torque.
Head-Up Display
Inspired by jet cockpit technology, this retractable display puts essential motoring info – speed, nav instructions, stereo, and other alerts – closer to your line of sight.
Cornering Brake Control
Balances braking pressure throughout all four wheels as you tackle sharp corners, helping you maintain control and forge ahead.
Adaptive Cruise Control
An on-board camera helps maintain a consistent distance between you and the car ahead.
Driving a MINI allows you to rest easy knowing they are reliable and dependable, equipped with some amazing technology designed to keep you and your loved ones safe.
Stop by Patrick MINI in Schaumburg today and get your new MINI!