TOP 3 REASONS TO SERVICE YOUR CAR AT PATRICK MINI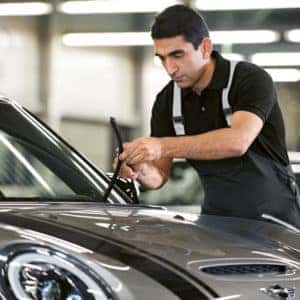 Your MINI needs love and care in all shapes and forms. Getting your MINI serviced at Patrick MINI is another form of care for your MINI that just can't be denied. In our latest blog entry we outline why we believe you should service your MINI with us instead of the other guys. MINIs are delicate beasts and our staff at Patrick MINI is the best at knowing how to care and service for your car baby.
1. ACCESS TO ORIGINAL PARTS
MINI's can be a little complex to the average person. They are small in scale but mighty in performance and fun. At Patrick MINI, when something goes wrong, we have a litany of original manufacturer equipment (OEM) parts at our disposal to fix your MINI. The benefit of getting your car serviced at Patrick MINI is knowing that your vehicle is being repaired and serviced with original parts. Nothing is being mixed and matched and thrown together like patchwork, everything is original and where it's supposed to go.
2. PROFESSIONAL TRAINING
Our service team at Patrick MINI loves MINI's just as much as you do! That's why we make it a point that our service team is properly trained in all things MINI, including service. When you bring your MINI into Patrick MINI for service, you can be sure that it is being cared for by a professionally trained service technician who utilizes only OEM approved service techniques.
3. THE PATRICK PROMISE
At Patrick MINI, and Patrick Dealer Group as a whole, we aim to provide the best level of care and service and that extends to every facet of our stores. We understand that bringing your vehicle in for service can be a stressful and sometimes confusing time. Your business is always greatly appreciated. We believe that our Patrick Promises go above and beyond other independent repair shops as we always have your best interests in mind.
With our combination of OEM parts, training, and our unique set of promises just for Patrick MINI customers, it's really no debate that servicing your car at Patrick MINI is the way to go. Call us today at 847-230-8211, click here, or visit us at 700 E. Golf Road in Schaumburg IL to schedule service.