Why Buy MINI?
Every car drives, but not every car is for the drive. MINI is a different kind of car, for a different kind of drive. With that being said, there are many reasons you should consider buying a MINI. The MINI was first introduced in 1959 and quite frankly, baffled a lot of people due to its look and size. However, they didn't realize that this special car would be fun to drive, with its thrilling ability to handle tight corners and its generous cargo space. With the way that MINI's drive, the surprising size of its passenger room and cargo space, it's iconic design and the numerous entertainment and motoring technologies, there's no doubt that you should come into Patrick MINI and experience a drive like no other for yourself.
If and when you decide to purchase a new or Certified Pre-Owned MINI, MINI offers warranties and maintenance protection plans to help keep your MINI on the road for years to come. With so many options, who wouldn't want to experience the fun and exciting feel of a MINI?
Do you want to learn more about the MINI models? View our MINI Trim Comparisons or select which model that you're interested in learning more about: MINI Hardtop 2 Door, MINI Hardtop 4 Door, MINI Countryman, MINI Clubman, MINI Convertible, MINI Electric, MINI Oxford Edition, John Cooper Works or John Cooper Works GP
Why choose Patrick MINI? "Our promises are what make the Patrick Dealer Group different. Our friendly and helpful team members will be happy to help you throughout the process. Our professional sales staff really listens to your wants and needs. For us, it isn't just about making a sale, but creating a positive relationship that will hopefully have a long-lasting future. " Learn more about our promises to you.
BRAND HISTORY
In 1957, post-World War II, gas prices were skyrocking in England. This gave Sir Leonard Lord of the Morris Company an idea: assign his top engineer, Alec Issigonis to design and build a small, fuel-efficient car that would be capable of carrying four adults. Alec Issigonis came up with two innovations. First, create more room in the cockpit by pushing the wheels all the way out to the corners and second, turning the engine sideways. By utilizing both innovations, it would give the car more stability in tight turns and allow more space for the passengers in the inside. In 1959, Mini was born.
It soon became apparent that, while intended to create more passenger room, Issigonis's numerous layout innovations also helped make the Mini a standout performance car. Wheels at the corners meant a wide, go-kart stance and nimble handling. And the transverse engine kept weight over the front tires, helping provide great balance and grip.
In 1961, when the MINI fell into the hands of British racing legend John Cooper, MINI decided to add a more powerful engine, bigger brakes and a few tuning tweaks and the Mini Cooper 997 was introduced. Shortly after, in 1962, Pat Moss lead Mini to their first motorsport victory in the Netherlands Tulip Rally.
By 1969, over 2 million Mini had been sold around the world. Pickup and station wagon versions were introduced and all were incredibly durable – whether rallying or doing the daily errands. Owners knew they could depend on their Mini to get the job done. And inspire smiles the entire time.
In 2002, the MINI Hardtop came to the U.S. roadways which made the public want more MINI. This helped the expansion of the family by having an available ALL4 all-wheel drive, three models with more seating and four doors, spirited two-seaters, topless motoring – and a new era of sophisticated technology and high-end interiors.
---
TOP REASONS TO BUY A MINI COOPER
Quality

You can feel and see the quality of the MINI Cooper just by driving it – and they are among the best cars at retaining their value throughout the years. And what's better is that MINI offers premium performance, entertainment, and communication technology within the MINI Connected system that keeps all of your technology at your fingertips.

Safety

If you're looking for safety in your vehicle, look no further than MINI Cooper. MINI's world-famous handling and various Active Safety Features can help you steer clear of accidents.

Complimentary Maintenance

With every new MINI purchased, Complimentary Scheduled MINI Maintenance comes standard for up to 3-years/36k miles (whichever comes first). During this timeframe, any services covered will be of no cost to you. This includes: engine oil services, inspection services, brake fluid services, engine air filter and cabin air microfilter.
---
INNOVATION

MINI FOR THE DRIVE
Every car drives, but not every car is for the drive. MINI is a different kind of car, for a different kind of drive. MINI is the drive that you deserve.
The Car That Brings People Together
When you own a MINI, you get much more than their signature fun, go-kart drive – you also become a member of the welcoming MINI community. From the "MINI Wave" to other exciting events like MINI Takes The States, you'll always have a friend nearby who enjoys their MINI like you do.
A Journey Worthy of the Destination
A car can take you anywhere, but MINI wants to make sure you enjoy the drive. It's in their nature to take a break from the usual and we have a feeling you might, too. Driving should be fun, not just a means to an end.
Rules? More Like Suggestions
When it comes to unconventional innovation, MINI has always been ahead of the curve. Call them rebels or nonconformists, but that's just the MINI way. MINI celebrates their unique inspiration because it's always been a part of their journey.

THE SURPRISING SIZE OF MINI
People that are unfamiliar with MINI are shocked at just how spacious the inside of a MINI really is. Innovations that MINI implemented in 1959, such as turning the engine sideways and the famous wheels-at-the-corners layout, was put in place for the sole purpose of creating as much passenger room as possible. MINI also announced the MINI Countryman and MINI Clubman, which are simply bigger MINI models with the same iconic design.
Generous Cargo Space
One of our most spacious models, the MINI Clubman boasts a staggering 47.9 cubic feet of boot space with the rear seats folded down. And even smaller models have adjustable seats and floor panels to accommodate the entire family's luggage.
Passenger Room
It may come as a surprise that three of MINI's models comfortably seat five people, while the rest easily seat four. By pushing the wheels to the corners and mounting the engine transversely, MINI has created the maximum interior space possible.
Packing Versatility
Because of how every MINI is built, the boot seems to almost inexplicably open up. In many of the MINI models, the back seats both fold and split. Add that to the adjustable floor panels and storage accessories? You have dozens of solutions to your packing needs.

ICONIC DESIGN
There are few vehicles on the road (or track) as recognizable as a MINI. For what began as a brilliant solution to a global oil crisis soon morphed into an international sensation, perfectly capturing the relentless spirit and optimism of contemporary culture. Decades later, the MINI size and tastes have grown up a bit, with larger models and more sophisticated materials and finishes. With the ability to customize, your MINI will be your own.
Premium Finishes
A wide selection of top-shelf upholstery and interior finish options – from handcrafted wooden surfaces and trim, to customizable door bezels, leather steering wheels and ambient lighting with 255 available color tones.
Brilliant Use of Space
A few of MINI's most important features – the transverse engine and famous wheels-at-the-corner layout – are solutions MINI invented over 50 years ago to create more interior passenger room. Add the hardtop's "plant-on roof" and people are consistently shocked at just how spacious the inside of a MINI actually is, with a handful of our tallest owners (one is a full 7-feet) swearing that a MINI is actually one of the only cars that can comfortably accommodate their exceptional height.
Contrasting Roof & Mirrors
MINI's iconic contrasting roof and mirrors were originally invented to help stand out from the pack in races. Today, this same design touch helps you stand out from the herd of uninspired motorers.
Accessories
With a MINI, you can pick the color…of the union jack flags. That are on your valve stem cap. And that holds true across the board. Whether it's mirror caps, driving lamps, exhaust tips, gear shift knobs or roof graphics, there are hundreds of ways to tailor your MINI to your exact personality and tastes.
Stripes
The question every MINI Owner faces: to stripe or not to stripe. Originally designed to help racers concentrate on the track ahead, our range of bonnet and roof stripe options now help you concentrate on making a statement.
Bespokes
The designers work for months sketching, molding and crafting the dozens of unique spokes and wheels – all with performance in mind. Black Victory Spoke? Silver Tentacle Spoke? The choice is yours.

TECHNOLOGY PACKAGES
Easy-to-use performance, entertainment and communication technology via the intuitive MINI Connected system. Whether you're trying to plug into the world around you with traffic, weather and location updates, or trying to get away from it all by listening to Spotify® and hammering through different driving modes, you can enhance your ride with the push of a button.
MINI Connected
MINI Connected features a high-res 6.5" or optional 8.8" display designed to seamlessly integrate technology into your MINI. Plus, it powers MINI's very own innovative tech, like Journey Mate: the ultimate trip-planner app that coordinates your entire drive, integrating real-time traffic, weather, calendar appointments and even help you find gas stations and parking spaces when you need them.
Spotify®, Pandora® & More
Browse and play music from Pandora, Spotify, iHeartRadio, web radio and others, all from your MINI's dashboard with MINI Connected. It's specially tailored for your favorite apps, letting you use our intuitive controls instead of looking at your phone.
Touch Controller with Handwriting Recognition
The MINI Touch Controller puts the power of the MINI Connected system at your fingertip. Use the simple buttons, or, in select models, just write a couple of letters with your finger on the touchpad to enter a destination or play a tune.
---
MINI WARRANTIES/MAINTENANCE PROGRAMS

MINI New Passenger Car Limited Warranty
The MINI New Passenger Car Limited Warranty covers everything, bumper to bumper and everything in between, except for the tires.
4-year/50,000 mile, whichever occurs first, limited warranty
4-year/unlimited mile 24-hour roadside assistance (begins on the original in-service date)
12-year/unlimited mileage warranty against rust perforation
MINI Certified Pre-Owned (CPO) Limited Warranty
Every MINI Certified vehicle is backed by our MINI Certified Pre-Owned (CPO) Limited Warranty. This provides comprehensive coverage for up to 6-year/unlimited miles from original in-service date. It provides specific coverage against defects in materials and workmanship, and is not a Maintenance Program nor extension of the original 4-yaer/50,000 mile MINI New Passenger Car Limited Warranty.
Here's what you'll get:
6-year/unlimited mileage warranty from original in-service date
24/7 roadside assistance
Complimentary Scheduled MINI Maintenance
Complimentary scheduled MINI maintenance comes standard with every new MINI and is one of the most comprehensive scheduled maintenance programs in its class, covering recommended scheduled maintenance for up to 3 years or 36,000 miles (whichever comes first).
Includes:
Engine Oil Services
Inspection Services
Brake Fluid Services
Engine Air Filter
Cabin Air Microfilter
Spark Plugs
Remote Control Battery
MINI Maintenance+
Intended to extend your MINI's Complimentary Scheduled Maintenance program with MINI Maintenance+. It's the simple, cost-effective way to keep your MINI's performance at peak potential. All work is done with genuine MINI Parts by MINI Certified Technicians. To provide comprehensive expert maintenance for the life of your vehicle, combine MINI Maintenance+ with MINI Value Service. Available exclusively at Patrick MINI.
MINI Extended Motorer Protection
Picking up where the factory warranty leaves off, Extended Motorer Protection covers an extensive list of mechanical and electrical components with two tiers of coverage and a range of durations to choose from.
---
MINI AWARDS

MINI Brand Awards
| Year | Award | Awarded By |
| --- | --- | --- |
| 2015 | Best Social Performance | Automotive Science Group |
| 2015 | Best All-Around Performance | Automotive Science Group |
| 2013 | Highest in Sales Satisfaction Among Mass Market Brands | J.D. Power |
| 2012 | Highest in Sales Satisfaction Among Mass Market Brands | J.D. Power |
| 2011 | Highest in Sales Satisfaction Among Mass Market Brands | J.D. Power |
| 2010 | Highest in Sales Satisfaction Among Mass Market Brands | J.D. Power |
MINI Cooper
| Year | Award | Awarded By |
| --- | --- | --- |
| 2017 | Highest Ranked Compact Sporty Car in Initial Quality | J.D. Power |
| 2012 | Among the Top 3 for Best Resale Value in its Class | Kelley Blue Book's KBB.com |
| 2010 | Top 10 Best Resale Value | Kelley Blue Book's KBB.com |
MINI Cooper S
| Year | Award | Awarded By |
| --- | --- | --- |
| 2014 | 10 Coolest New Cars Under $25,000 | Kelley Blue Book's KBB.com |
MINI Cooper SE (MINI Electric)
| Year | Award | Awarded By |
| --- | --- | --- |
| 2021 | Urban Green Car of the Year | Green Car Journal |
MINI Hardtop 2 Door
| Year | Award | Awarded By |
| --- | --- | --- |
| 2018 | Top Safety Pick (with optional front crash prevention and new optional LED headlights) | IIHS |
| 2016 | Top Safety Pick+ (with optional front crash prevention and built after Nov. 2015) | IIHS |
MINI Cooper Clubman
| Year | Award | Awarded By |
| --- | --- | --- |
| 2010 | Best Resale Value: Compact Car | Kelley Blue Book's KBB.com |
| 2010 | Top 10 Best Resale Value | Kelley Blue Book's KBB.com |
MINI Cooper Convertible
| Year | Award | Awarded By |
| --- | --- | --- |
| 2013 | IntelliChoice Best Overall Vehicle of the Year in the Convertible Class | Motor Trend/Wright's Media |
MINI Countryman
| Year | Award | Awarded By |
| --- | --- | --- |
| 2015 | Top Safety Pick | IIHS |
| 2014 | Top Safety Pick | IIHS |
| 2013 | Top Safety Pick | IIHS |
| 2012 | Highest Ranked Vehicle Appeal Among Compact Crossover/SUVs | J.D. Power |
| 2012 | Top Safety Pick | IIHS |
| 2011 | Top Safety Pick | IIHS |
---
PATRICK DEALER GROUP'S HISTORY WITH MINI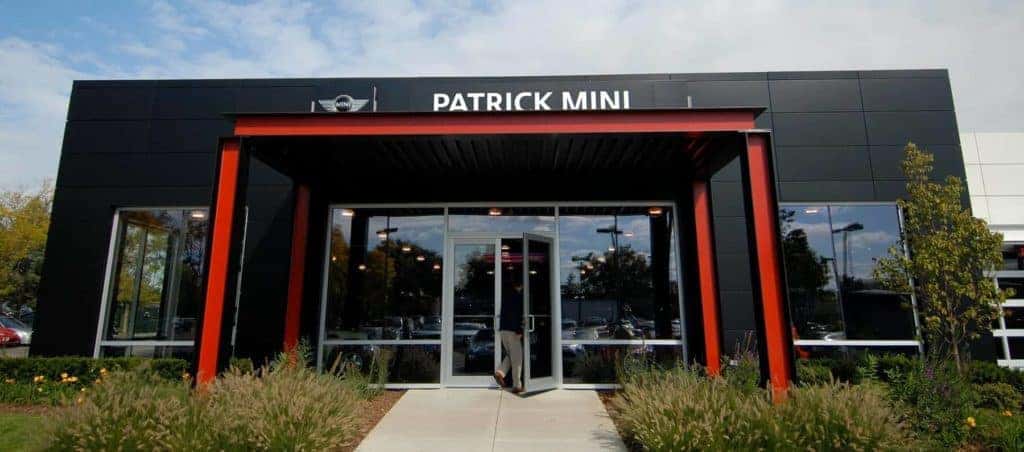 In 1904 Detroit Michigan, Hanley Dawson IV's great grandfather made the acquaintance of the legendary Henry Ford. Ford's automobile manufacturing plant was located across the street from the bank where he worked. His great grandfather offered to sell used cars returned to the Ford plant, and eventually was granted the opportunity to sell new cars off the assembly line.
In 1907, his great grandfather was awarded the first new Ford franchise in the Midwest.
In 1951, Hanley Dawson Jr. took over the dealership from his father. 20 years later, in 1971 the family business moved to Chicago, on the corner of Rush and Ontario Street, and Hanley Dawson Jr. was awarded the first and only Chicago Cadillac factory retail branch operation. Hanley Dawson Jr. and his son, Hanley Dawson III, ran that business known as Hanley Dawson Cadillac until the early 1990's.
In 1977, Hanley Dawson III set out on his own and started the Patrick Dealer Group, named after his youngest son Patrick.
In 2001, Patrick MINI was established at 700 E Golf Rd, Schaumburg, IL 60173.
---
PATRICK MINI CELEBRATED 20 YEARS IN 2021!
In 2001, Patrick was one of only 3 dealers in metro Chicago to receive this franchise. Patrick's relationship with MINI has been one of excitement and growth. Arguably one of Patrick's most "fun" brands, MINI has captured customers with their bright colors and exciting marketing initiatives that bring excitement to the entire group. This combined with their excellent job competing within the segment has driven business and made MINI one of Patrick's celebrated brands.